get ready to lounge
poolside
Escape the heat & join the fun!
Escape the heat, join the fun! Featuring VIP Day Bed and Cabana Seating in a family-friendly atmosphere. Book your VIP Experience NOW!
Hours of Operations
Daily: 10 a.m. – 5 p.m. (extended hours begin April 27)
Beverage Service begins at 10 a.m.
Select Sandwiches and Salads Available through March 29
Admissions
Admission Monday – Thursday starts at $10.
Admission Friday, Saturday, Sunday, and Holidays starts at $20.
Admission for M Pool also includes entry to DayDream Pool Club.
Children 10 years old and younger are $5 at all times (admission discounts do not apply).
Food and Beverage Menu: View Menu
Featuring over 100,000 square feet of space and two infinity-edge pools, M Pool's 4-star atmosphere provides ample room to achieve optimal relaxation without the chaos of the Las Vegas Strip. M Pool features upgraded VIP amenities including exclusive Day Beds, Deluxe Cabanas, spacious VIP Cabanas, and above-it-all Party Patios available to rent daily.
The M Pool area features two, 5,460-square-foot heated, infinity edge pools, lush landscaping, and two large whirlpool hot tubs. With a depth of three and a half feet at their deepest, M Pool is easily enjoyed by Guests of all ages and features a nine-inch wading depth pool on each end.
Model Cocktail Servers provide first-class bottle service and pool-side food and beverage service to both VIP reservations and chair Guests. Bottle service begins at $99 and features a wide variety of options and packages.
check out our
M Pool Offers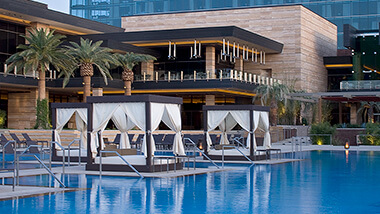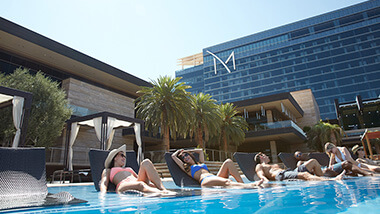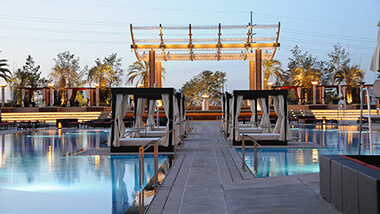 upcoming events at  
DayDream pool club 
daydream pool club
Party your cares away in style! Featuring the area's top local DJs, exclusive VIP Seating, and hand-crafted cocktails.
Hours of Operations:
Saturdays, Sundays, Holidays: 11 a.m. – 5 p.m. (Opens April 4 - Extended hours begin May 2)
More Information, Reservations, Events: Book your VIP experience NOW!
Outside food and beverage not purchased at M Resort, weapons, firearms, pepper spray, pocket knives or mace, chairs and blankets, cameras with interchangeable/detachable or zoom lens or external flash, audio/visual recording devices (including GoPro, Snapchat Spectacles, etc.), selfie sticks, tripods, monopods, two-way radios, illegal drugs or substances, flammable liquids, aerosol cans, permanent markers, flashlights, laser pointers, light/glow sticks, flares, or fireworks/noise making devices (i.e.air horns, whistles, bells, vuvuzelas, etc.), coolers, ice chests, folding chairs, pointed-tip umbrellas, masks, chains, studded belts/bracelets.
All personal items are subject to review by security and staff members prior to entry.
*Management reserves all rights*.